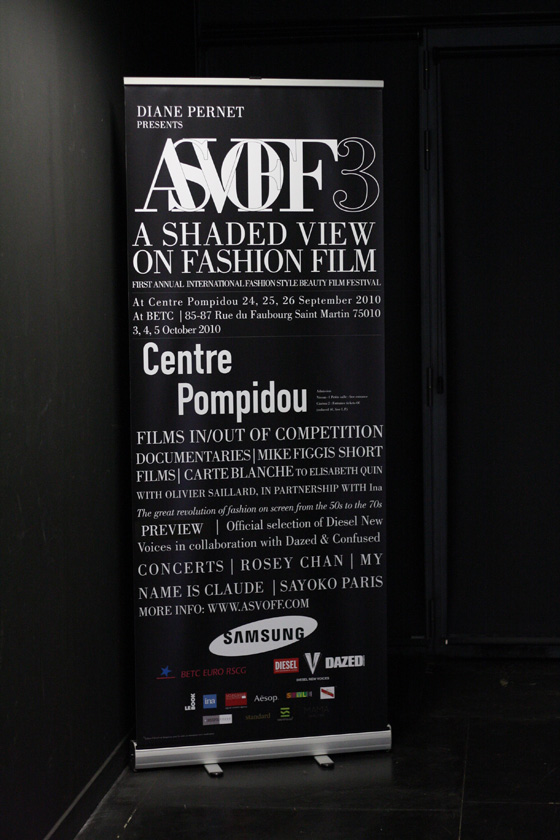 wenn das asvoff in paris seine zelte aufschlägt, muss ich hin, aus vielen gründen, aber vor allem weil das schlechte gewissen bezüglich meiner diplomarbeit immer größer wird. das festival ging vor zwei wochen in die dritte runde. diesmal werden nicht nur fashion shorts sondern auch 'style & beauty' filme gezeigt. hier die auswahl die diane pernet der breiten öffentlichkeit zur verfügung stellt. einfach auf die screenshots klicken und schon kommt man zu den videos!

lust lust directed by martins grauds, starring aigars stirna (2009)
best film & best male asvoff 2010

for the label pringle of scottland, directed by ryan mcginley, starring tilda swinton (2009)

despair, directed by alex prager, starring: bryce dallas (2010)
best artistic director 2010

first spring directed by yang fudong for prada (2010)

how you look at it directed by poppy de villeneuve, starring: liu wen & edoardo ballerini (2010)
im übrigen mein absolutes lieblings fashion video!

directed by glen luchford, starring: tilda swinton (2010)

directed by mike figgis, starring: kate moss (2007)

for missoni, directed by kenneth anger, starring: the missonis

if you had been the moon directed by peter mcgough

we want war directed by daniel askill, starring: these new puritans – band members
eine vivienne westwood doku von mike figgis war auch noch dabei, leider auf die schnelle nicht im netz gefunden, dafür diese. wenn man knappe drei stunden von modefilmchen eingelullt wird, geht man wieder motiviert raus. mission accomplished.